show your support for atheism and freethought!
Atheists Online Refreshingly offensive products, shirts, hats, stickers and more- Blasphemy at Low as Hell prices!

Evolve Fish Fish Emblems, Shirts, Stickers, Buttons, Pins, Hats, Books, Tapes, Magazines, CDs

Darwin Fish Fish Emblems, Bumper Stickers, T-shirts, Posters, Buttons, Decals

American Atheists Catalogue Stickers, Fish Emblems, Books, Videos, T-shirts, Posters, Mugs, Jewelry, CD-ROMs

Yo, God! God Detector Get the one and only Yo, God! God Detector.

Heresy House "Oh So Blasphemous: t-shirts, posters, greeting cards and swag to gladden the greatest sinner..."

Ring of Fire Fish Emblems, T-shirts, Stickers, Pins

Free World Trading Company "Radical T-shirts for Rational Minds", Best site for shirts

Divine Interventions 18+ Adults only! Religious sex toys! "Home of the Baby Jesus Butt plug and more!"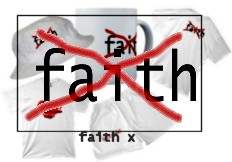 Fade to Black Store "Where's Christ" T-shirt, Bumper stickers

ACA Atheist Products T-shirt with list of famous atheists

Atheism and Atheist Products on Ebay

Faith-X products by the Atheist Empire

Show US Your Atheism!

We would love to see you sporting your atheist gear!

Send us pictures of you proudly wearing your favorite Atheist or Freethought shirt, hat or even your car sporting your most blasphemous bumper sticker or Darwin Fish.

Images will be used on Faith-X and Atheist Shopping Guide

send images to imacrook@yahoo.com

Books, Magazines, Tapes, Video and Multimedia

Amazon.com Results from search for "atheism" books, over 922 matches!

American Atheists Catalogue Stickers, Fish Emblems, Books, Videos, T-shirts, Posters, Mugs, Jewelry, CD­ROMs

Skeptics Society Store Skeptic Magazine, Books, Audio and Video tapes

Reason Works "Audio Tapes for the Freethinker" Including the works of Sagan, Ingersoll, Nietzsche, Darwin, James Randi and more.

Prometheus Books "Independent publisher of educational, scientific, atheist, humanist, freethought, and skeptic books, journals, and audio tapes."

Also see the multimedia and downloads section